Carnivore2 MSX cartridge $139.49 (postage included)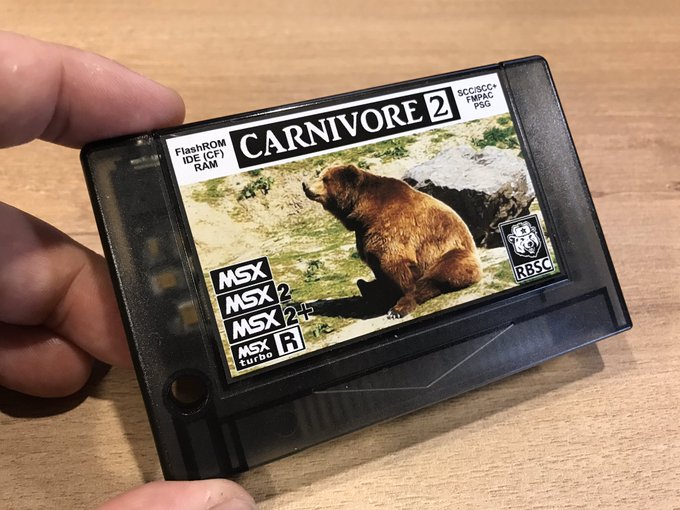 ---
Description


Carnivore2 is a multi-function MSX cartridge developed by the Russian Bear Service Crew (RBSC) in 2017. The project was released as open-source and several manufacturers were authorized to produce the cartridge commercially.

Officail Site: https://rbsc.su/en/completed_projects/#carnivore2
Official User Guide: https://sysadminmosaic.ru/en/msx/carnivore2/
Project Website: https://github.com/RBSC/Carnivore2


---
Specifications
Removable media: Compact Flash card

Maximum partition size: 4GB
Uses Nextor as DOS (native FAT12/16 support)
High speed transfer (read and write)
Supports CF-to-MicroSD adapters
Nextor supports DSK emulation
MSX-DOS and MSX-DOS2 capable tools
Can be configured as RAM expansion, disk drive, FM-PAC or SCC/SCC+ cartridge or as a combination of those

RAM: 2048KB (2MB)

Distribution:

1024KB Memory mapper
256KB for BIOS ROM shadowing
720KB MegaRAM-alike mapper
4KB (in the last 64KB block) for PAC SRAM (requires in internal battery to preserve data after power-off)

FlashROM: 8MB (64Mbits)

Fast Writing
first 256kb used for service areas and BIOS ROMs
Mapper emulation:

up to 64K plain ROM
ASCII 8K
ASCII 16K
Konami4
Konami5 (SCC/SCC+)
custom-configurable mapper

Sound
Additional info

Boot menu with multiple entries (ROM or configuration)

Entry sorting
Customizable UI (colors, entry sorting, key repeat speed, fade effects)
Help pages
Volume control for all emulated sound hardware
Joystick and joypad support
50/60Hz instant switching support
Turbo/R800 mode switching support
Supports entry's auto-start with timer
Allows to run 2 ROMs at the same time in the Dual-Slot screen
Mono/stereo modes for FMPAC output
Allows to set the default startup frequency (50 or 60Hz)

Konami sized cartridge
Operates at standard 3.58 MHz as well as at overclocked 7.11 MHz bus speeds
Powered by a FPGA (EP2C5Q208C8 Altera CYCLONE II)
Uses proprietary software to manage all functions

ROM loader into FlashROM and RAM
backup tool for FlashROM, configuration mini FlashROM and PAC SRAM
IDE interface testing tool, etc.

Noob friendly
---
Minimum System Requirements
Any MSX computer with one free standard cartridge slot
---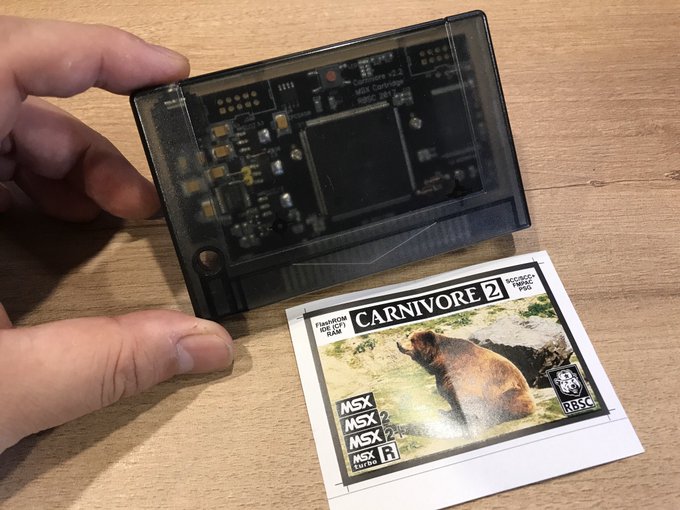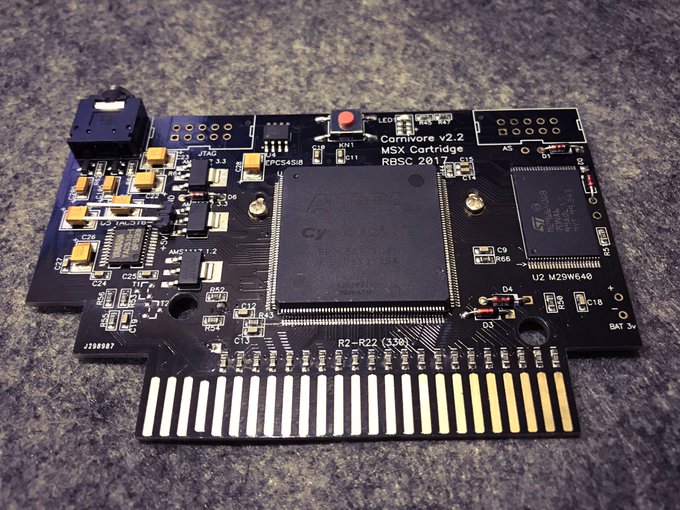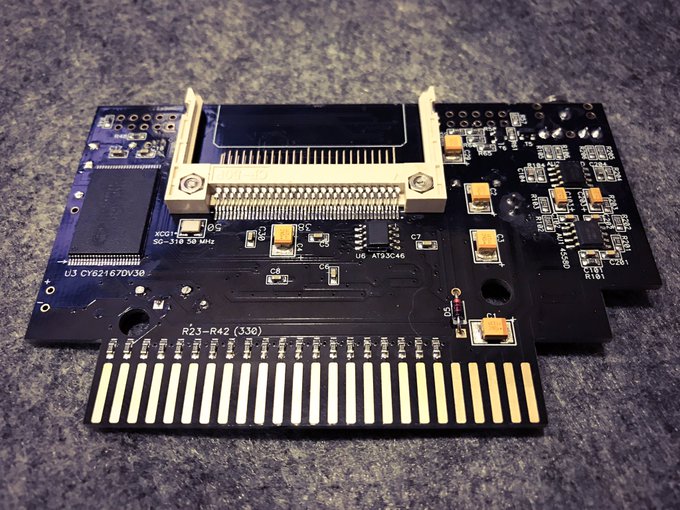 ---
Notes


1. The transparent smoke Cartridge Shell of Carnivore 2 MSX is well producted in factory.
2. This product is produced and soldered by Retro Game Restore.
3. CF memory cards are not included.
4. RETURN AND REFUND POLICY
In order to get a replacement or a full refund, the defective unit must be returned to Retro Game Restore first.
After the defective unit is confirmed to be received and reviewed, a replacement or a full refund will then be processed.
All defective units will be carefully reviewed, a replacement or a full refund will not be eligible for the defects
which are made by inappropriate modifications or any kind of misuse under any circumstances.
5. This product is with 1-year warranty.
Misuses of any kind such as careless soldering and modifying or firmware update failure are not covered by warranty.
Retro Game Restore will provide tech support for the products which are still warranty effective free of charge. The users should only bear the shipping costs.
For the products which are no longer warranty effective,
please kindly contact us via Facebook message or Twitter for details of tech support and fees.
6. Shipping costs of returning products to Retro Game Restore should be borne by the users. The costs of shipping the products back will be taken care of us.
7. All in-stock items will be dispatched within 3 to 5 days via airfreight.
However, please allow the out-of-stock items 14 days of preparation from the date of purchase until the order being dispatched.
This is to ensure proper assembly and testing of the cartridges for quality control purposes.
8. The price USD$132.49 is including shipping cost to the following destinations as listed below:
North America: USA, Canada, Mexico
South America: Chile, Brazil
Europe: UK, Germany, France, Belgium, Netherlands, Spain, Portugal, Italy, Denmark, Sweden, Finland, Norway, Poland, Malta
Asia: Korean, Japan, Thailand, Singapore, Malaysia
Oceania: Australia, New Zealand

BTW, Orders will only be dispatched to the aforementioned available countries. Full refund will be processed if the chosen destination does not match the list.




Please be reminded the included postage here is only for standardized airmail parcel. Should you choose other logistic services, such as EMS, to have your parcel dispatched, the additional costs will be borne by the customers.

Please also be kindly noted that due to the nature of air freight, parcels are measured by volumetric weight. It means the bigger/heavier the parcel is, the postage is higher. In this case, should you choose to combine two items to be dispatched together, three will be extra costs for the postage. If you need more information, please send us DM. Thank you for the cooperation.
---
Place Your ORDER here:
---